Sakuragaoka is a first year student at Fujou High School, and also member of Game Creation Club.
Appearance
Edit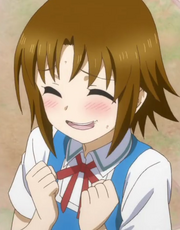 Actually Sakuragaoka is boy, but because he is Bishōnen (boy who have beautiful face), when first met Kenji Kazama he crossdress as girl, to avoid the punch, but since that at time he should meet Kazama he must continue crossdress as girl.

One day when Takao trying to raise her club, she along Inada and Yamada then decided to join Game Creation Club.
Just like other characters' in D-Fragments series, their names are reference to railway stations in Japan. His name is derived from Sakuragaoka Station.
Throughout series run Kenji Kazama still don't know if he was a boy.
Ad blocker interference detected!
Wikia is a free-to-use site that makes money from advertising. We have a modified experience for viewers using ad blockers

Wikia is not accessible if you've made further modifications. Remove the custom ad blocker rule(s) and the page will load as expected.