Welcome to D-Fragments Wiki
This wiki is dedicated to everything related to the series called D-Fragments or often abbreviated as D-Frag! that anyone can edit. Please help by editing or adding articles and lessening the stubs. We currently have 2,330 edits to 126 articles and 224 images on this wiki.
---
Synopsis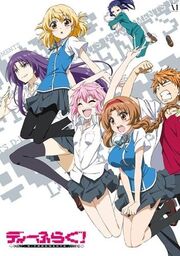 D-Fragments is a comedic manga series by Tomoya Haruno that began serialization in Media Factory's Monthly Comic Alive in September 2008. The story focuses on a semi-connected series of sketches as delinquent student Kazama Kenji, who likes to believe he is something of a delinquent. Moreover, others seem to like to agree that he is. Of course, Kenji's gang finds their way to a group of four not-so-normal girls—Chitose, Sakura, Minami and Roka—and all at once, whatever reputation he may have is nothing compared to the outrageous behavior of the girls. Kenji later forced into joining their club, what will happen to his everyday life from that point on?

Featured Media
Spring Season 2017 Anime Wikis

TV Anime


Multiseason


TV Shorts


Movies


OVA / ONA / Special

Latest news of the Series
June 25, 2014: D-Frag! Radio Seisaku Bu Vol.1 as well Bonus CD Vol. 4: Character Song Chitose Karasuyama & Sakura Mizukami was released in Japan.
May 28, 2014: Bonus CD Vol. 3: Character Song Funabori was released in Japan.
April 25, 2014: D-Fragments Drama CD - Gitchigitchi na Futari!? as well Bonus CD Vol. 2: Character Song Roka Shibasaki was released in Japan.
March 26, 2014: Bonus CD Vol. 1: Character Song Takao as well D-Fragments Drama CD - Madomura Online was released in Japan.
March 24, 2014: OVA announced, D-Fragments OVA with the special edition of Tankōbon vol. 9 will be released on September 22, 2014.
March 5, 2014: The CD Album of anime ending theme: "Minna no Namae wo Irete Kudasai" was released in Japan.
February 26, 2014: The CD Album of anime opening theme: "Stalemate!" was released in Japan.
January 7, 2014: The first episode the of anime adaptation was aired.
Desember 21, 2013: D-Frag! Tankōbon vol. 8 as well D-Frag! vol. 8.5 (Guide Book) was released in Japan.
August 6, 2013: The TV Anime adaptation announced.
Ad blocker interference detected!
Wikia is a free-to-use site that makes money from advertising. We have a modified experience for viewers using ad blockers

Wikia is not accessible if you've made further modifications. Remove the custom ad blocker rule(s) and the page will load as expected.